Introduction
IFCPF organize workshops in partnership with National Paralympic Committees, Football Federations, Disability Organisations or anyone who leads on CP football in their country.
Content of the course is:
Information regarding Football 7-a-side: history, tournaments, rules, development
Classification (Head of Classification is present at the course as a tutor for the classification part)
Specific information regarding training and coaching CP Football players
Applying to host a workshop
Countries interested to host a workshop or coach education course have to submit the application form, along with the required supporting documentation, to the IFCPF secretariat before November 1st of the year prior to the commencement of the grant's activities.
Where we have delivered CP Football Workshops
| | |
| --- | --- |
| 2017 | CP Football Workshops |
| April | Kazakhstan |
| March | South Africa |
| January | Brazil |
April 2017 - Kazakhstan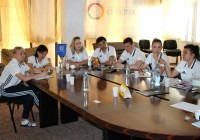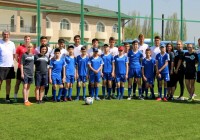 Delivered over three days, 8 participants took part in both theory and practical learning to develop their knowledge and understanding of CP Football. The group included players from professional mens football and former professional and international female players, who are now passionate about supporting others to enjoy the beautiful game.
| | | | |
| --- | --- | --- | --- |
| Country | Tutors | Participating Countries | Number of Participants |
| Kazakhstan | Marcel Geestman and Sam Turner | Kazakhstan | 8 |
March 2017 - South Africa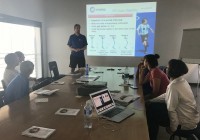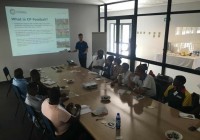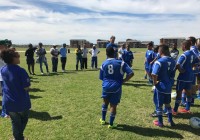 IFCPF conducted a CP Football workshop alongside SASAPD's Nedbank National Championships. In total around 23 participants took part in the course, including coaches and physiotherapists.
In addition, players from a number of teams were involved to support both coaching and classification elements.
South Africa last participated in the Intercontinental Cup (now known as the World Championships) in 2013, but has since only been holding national championships. With a strong national programme, including teams from 7 provinces, the future for the national team is very bright with lots of gifted young players.
National Convenor Lucky Tsatsane has now put in place a development plan, with the idea to participate in World level competitions in the near future.
| | | | |
| --- | --- | --- | --- |
| Country | Tutors | Participating Countries | Number of Participants |
| South Africa | Marcel Geestman, Sam Turner | South Africa, Namibia | 23 |
January 2017 - Brazil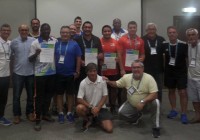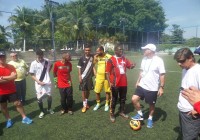 The International Federation of CP Football supported the international seminar of the Brazilian disability sport organization ANDE. The course was held from March 20 to 25 and was sponsored by the International Paralympic Federation.
Coaches from Argentina, Brazil, Chile, Trinidad & Tobago and Ecuador were present for the training course in Rio de Janeiro, in which which was focused on topics for the sports sciences and activities for people with disabilities.
| | | | |
| --- | --- | --- | --- |
| Country | Tutors | Participating Countries | Number of Participants |
| Brazil | Paulo Cruz, Marcello Sanchez | Argentina, Brazil, Chile, Ecuador and Trinidad & Tobago | 11 |
| | |
| --- | --- |
| 2016 | CP Football Workshops |
| December | Malaysia |
| December | Peru |
| June | Colombia |
| April | Kenya |
December 2016 - Malaysia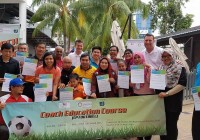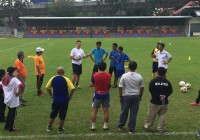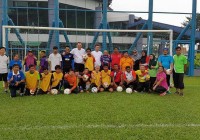 Malaysia - 8th - 10th December 2016
Working in partnership with NPC Malaysia and coordinated with support from the Asian Football Cenfederation, course instructors René Jurrius and Kai Lammert worked with local coaches to develop their knowedge, understanding and skills.
Over two and a half days the coaches learned about how to coach CP football players, the basics in classification, player recruitment, constructing and running a training session and they got given all the tools that are required to run a successful CP football program in Malaysia.
It was very exciting to see that all the Development plans that were constructed within the course are already on their way to be implemented over the next few weeks in the various regions in Malaysia.
The feedback from the participants was overwhelmingly positive. The commitment and eagerness to learn from all participants needs to be commanded and most participants would have loved to have a few more days added to the schedule.
| | | | |
| --- | --- | --- | --- |
| Country | Tutors | Participating Countries | Number of Participants |
| Malaysia | Rene Jurrius, Kai Lammert | Malaysia | 16 |
December 2016 - Peru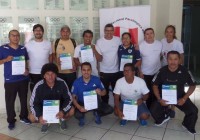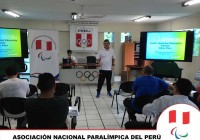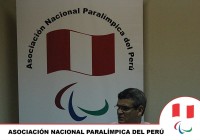 Peru - 7th - 9th December 2016
Supported by NPC Peru, IFCPF delivered a CP Football Workshop in Lima, Peru to a group of physical education teachers and professionals. Delivered by IFCPF Head of Classification Raúl Reina, former Brail National Coach Paulo Cruz and IFCPF Classification Committee member Dr Jorge Parra, the course was a great success.
| | | | |
| --- | --- | --- | --- |
| Country | Tutors | Participating Countries | Number of Participants |
| Peru | Paulo Cruz, Raul Reina and Jorge Parra | Peru | 9 |
June 2016 - Colombia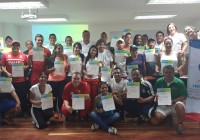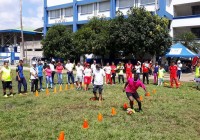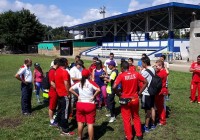 IFCPF conducted a 3 day Coach Education & Classification Course. In total 30 participants took part in the course, including 20 coaches and 10 physiotherapists. Coaches attending the course were ofcourse very interested in the coaching sessions, tactics and training ideas part of the course conducted by the course instructor René Jurrius, while the Physiotherapists were supported by International Classifier Marcello Sanchez to learn more regarding classification.
Colombia has history with CP Football development but hasn't yet made the step towards international participation. However, they have already developed a regional programme of CP football teams and every year host a National Championships. The next stage is a long term development plan around the national team.
During the three days of the course, working with the participants and the organisation, Federacion Colombiana De Deportistas Con Paralisis Cerebral (FECDE PC) devised a draft development plan to establish a good structure for the national team.
The coaches were inspired and motivated during the course and were able to produce and present good training sessions, including technical and tactical exercises to their fellow coaches. The physiotherapists gained a lot of knowledge regarding classification and we hope that a lot of them will be part of the new IFCPF classification education.
We hope to see and meet Colombia soon in international tournaments.
| | | | |
| --- | --- | --- | --- |
| Country | Tutors | Participating Countries | Number of Participants |
| Colombia | René Jurrius, Marcello Sanchez | Colombia | 30 |
April 2016 - Kenya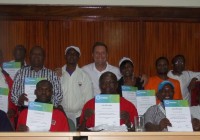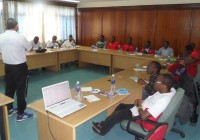 In the very nice and friendly country of Kenya, IFCPF course instructors delivered a 2 day workshop for 17 participants about Coaching and Classification in CP Football. The participants included physiotherapists, coaches, administrators and members of the Kenya National Paralympic Committee.
Also taking part were 10 motivated CP players. With the 10 CP players we could practice classification and training sessions. The course was held at a very nice accommodation "Kenya School Off Monetary Studies".
The participants did a great, after two days they already recognised most of the classes on the field, and they also delivered good training sessions. We hope and think that Kenya have a good future in CP Football and a good foundation to hopefully soon take part in international tournaments.
The main goal for Kenya is to play in an international tournament in the next two years. Together they are making good plans of how to get there.
Altogether the course in Nairobi (Kenya) was a great success, they have a long way to go but everyone is very motivated to make the right steps.
Rene Jurrius and Paulo Cruz, as Technical Instructors, would like to thank the organisation (Kenia Paralympic Committee) for the very good days with a very fine organisation and a great accommodation.
Also we want to thank the very motivated participants and wish them all the luck and wisdom to start with CP Football in Kenya.
What the participants said:
"Thank you for the people who have made it possible, now we can come with a National team in Kenya."
"The workshop was done well and they should come again. It is a dream come true for us. God bless you dear friends and colleagues."
"It was very informative and an eye opener for me in classification of CP football."
"I would personally give my gratitude for the two very able facilitators, Paulo and Rene, for a job well done. Big thank you to the world body."
"The workshop was the best, I did enjoy the two day experience. Wished it would be for one week. It was fun."
"Very, very knowledgeable. Good presentation. Well illustrated, both in video and verbally, and in activity."
| | | | |
| --- | --- | --- | --- |
| Country | Tutors | Participating Countries | Number of Participants |
| Kenya | Paulo Cruz, Rene Jurrius | Kenya | 27 |
| | |
| --- | --- |
| 2015 | CP Football Workshops |
| November | Chile |
| May | El Salvador |
| April | Nigeria |
17th November 2015 - Santiago de Chile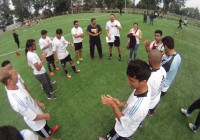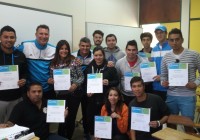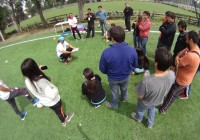 In a very nice country and beautiful city of Santiago de Chile, IFCPF delivered a 3 day workshop for Classifiers and Coaches. With 20 very motivated participants, the course tutors felt the workshop was a great success and delivered at a high level.
The workshop was divided into two sections, with one part focusing on CP Football classification and the other around the coaching aspects of the game, in particular the areas of designing and delivering training sessions.
Participants quickly developed their knowledge of classification, supported by great insight from tutor Marcelo Sanchez, applying their learning and already being able to identify most classes in the field of play.
Led by Rene Jurrius and Paulo Cruz, course tutors for IFCPF, participants displayed great skills in designing and delivering practical training sessions. In preparing the training sessions, the participants demonstrated their understanding of how to train with the different classes and how to build up a good training session in CP Football.
Our IFCPF course tutors were also really pleased to see the developments with young CP players, with Chile hosting their first tournament for Under 14 players. During the course and in the days following, the Chile Paralympic committee, American Paralympic Committee and Chile Football Association organised an International Tournament with the national teams of Argentina, a 2nd division CP team from Brazil and the national team of Chile. It was a fantastic opportunity in the course to use the matches also for practical education with the participants, giving visual examples. All this together made the week in Chile to a great success.
On behalf of our course tutors, IFCPF would like to thank the organisations involved in making this CP Football workshop possible, and for a very good week with great organisation and accommodation. Chile have a positive future in CP Football and a great foundation to play soon in International tournaments.
| | | | |
| --- | --- | --- | --- |
| Host Country | Tutors | Participating Countries | Number of Participants |
| Chile | Marcello Sanchez, Paulo Cruz, René Jurrius | Chile | 20 |
5th May 2015 - El Salvador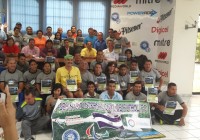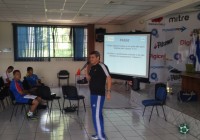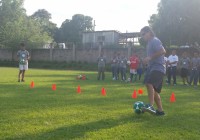 From 5th to 7th May, IFCPF tutors conducted a Coach Education and Classification Workshop in El Salvador. 39 participants, including 10 CP players and 29 coaches from 5 Central American countries participated in the 3-day course in the national football stadium of the capital city San Salvador.
El Salvador, Panama, Guatemala, Honduras and Nicaragua all participated in the first IFCPF coach education course in Central America.
The main goal of the course was to educate the coaches and players in classification and training opportunities. For all coaches and players, the course was a new experience and the participants received a lot of information regarding classification, the history of CP Football, international tournament schedules, player recruitment and training practice.
IFCPF appointed three experienced course instructors for this workshop: Rene Jurrius, Paulo Cruz (IFCPF Coach Education Tutors) and Marcelo Sanchez (IFCPF International Classifier).
The course was a first introduction to CP Football for the representatives of the countries, who were very enthusiastic and decided to cooperate with each other to develop CP Football in the region and work towards international participation in the future.
The course was organized by the Central America Paralympic committee in cooperation with National Sports Institute of El Salvador (INDES) and the financial support of IFCPF.
Jose Luis Campo – APC's President said:
"The feedback is very positive, the people of Centro American represented in 5 countries tell me they are thinking of organising a Football Festival in the close future, with the countries of the Region.
In name of the APC, we appreciate and say thanks to the IFCPF for to give this opportunity to the region, of course we will continue working together."
A lot of praising comments about the workshop have been received. ESA is going to replicate it throughout the country. For the closing event, the President of the football association and the Minister of Sports were present to support them.
| | | | |
| --- | --- | --- | --- |
| Host Country | Tutors | Participating Countries | Number of Participants |
| El Salvador | Marcello Sanchez, Paulo Cruz, René Jurrius | El Salvador, Panama, Guatemala, Hnduras, Nicaragua | 29 |
24th April 2015 - Lagos, Nigeria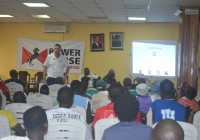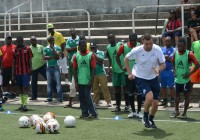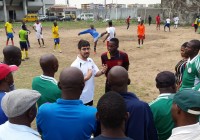 From April 24th - 26th IFCPF course instructors gave a Coach Education and Classification Workshop in Lagos (Nigeria), at the National Stadium.
Nigeria is a new member of IFCPF, 67 participants join this IFCPF workshop. Rene Jurrius (Tutor IFCPF) and Dr. Raul Reina (IFCPF Head of Classification) where the tutors who gave the course in Lagos. This 3 days course was really successful and we hope with the knowledge they get, they will be soon show there talent in International Tournaments.
The course was organized, with the support of IFCPF, by the Cerebral Palsy Football Association of Nigeria, in cooperation with The Nigeria Paralympic Committee. The tutors thank the organization their job because they make this course also to as success.
| | | | |
| --- | --- | --- | --- |
| Host Country | Tutors | Participating Countries | Number of Participants |
| Nigeria | Raúl Reina, René Jurrius | Nigeria | 32 |
| | |
| --- | --- |
| 2014 | Coach Education Courses |
| November | Wales |
| October | Lithuania |
| February | Brazil |
| January | Japan |
19th-20th November 2014 - Newport, Wales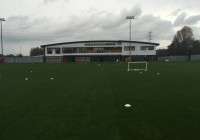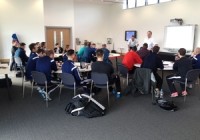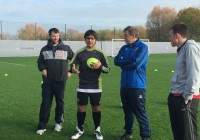 On November 19th and 20th the Football Association of Wales hosted a Cerebral Palsy (CP) Football Technical Development Course. The course took place at the National Football Development Centre in Newport, South Wales and was attended by 24 candidates from Wales, England and the Republic of Ireland.

Rob Franklin, the Welsh National Disability Football Coordinator, commented:
"hosting the course here in Wales was an important first step for us in the development of a cerebral palsy football programme. Over the coming months and seasons we will develop CP specific clubs, regional performance structures which will lead to the establishment of a national team. The course was extremely informative and enjoyable, a must for any new nation thinking about developing a CP programme."
The course was tutored by IFCPF (governing body for CP sport) Football Technical Director Tom Langen, Dutch under 18 CP Head Coach Rene Jurrius and Head of Classification Raul Reina. Course content included information regarding the 7-a-side game, history, tournaments, rules, development, classification and models of best training and coaching practice.
| | | | |
| --- | --- | --- | --- |
| Host Country | Tutors | Participating Countries | Number of Participants |
| Wales | Tom Langen, René Jurrius, Raúl Reina | Wales, England, Ireland | 20 |
2014 - Lithuania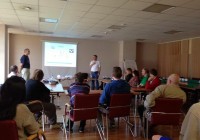 | | | | |
| --- | --- | --- | --- |
| Host Country | Tutors | Participating Countries | Number of Participants |
| Lithuania | Tom Langen | Lithuania | 15 |
6th-8th February 2014 - Salvador, Brazil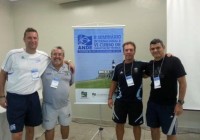 The Brazilian Paralympic Committee organized a seminar in Salvador (Brazil) from February 6th – 8th 2014. Part of this event was a CPISRA Coaching Course & Classification Workshop for Football 7-A-Side. The course and workshop were conducted by CPISRA tutor, René Jurrius. For the classification part of the course, he was supported by Marcelo Sanchez (Senior International Classifier CPISRA) and by a translator, the famous former Football 7-A-Side Head Coach of Brazil, Paulo Cruz who is also a member of the Football Committee.
| | | | |
| --- | --- | --- | --- |
| Host Country | Tutors | Participating Countries | Number of Participants |
| Brazil | René Juries, Paulo Cruz | Brazil, Argentina, Chile | 20 |
18th-19th January 2014 - Osaka, Japan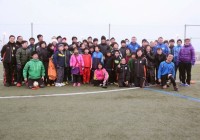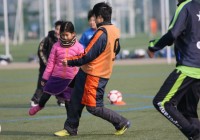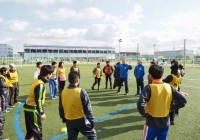 On January 18 – 19 , 2014, Football 7-A-Side coaching and classification workshop was held at the J-Green Sakai & Dream Camp in Osaka, Japan.
The workshop was conducted by Chairperson Tom Langen and Head of Technical Development Stuart Sharp.
Thirty-five participants attended this course. This workshop was a good opportunity for the participants to developed their knowledge and understanding regarding CP football.
A junior player Development Camp and the Challenge Football 7-a-side tournament (development event for Football 7-a-side with the participation of CP-players and high school students) was organized at the same time.
| | | | |
| --- | --- | --- | --- |
| Host Country | Tutors | Participating Countries | Number of Participants |
| Japan | Tom Langen, Stuart Sharp | Japan | 25 |
| | |
| --- | --- |
| 2013 | CP Football Workshops |
| November | Germany |
| May | Austria |
| March | Sierra Leone |
2013 - Germany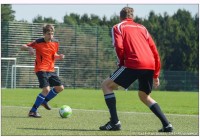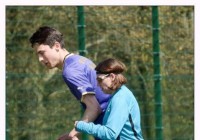 | | | | |
| --- | --- | --- | --- |
| Host Country | Tutors | Participating Countries | Number of Participants |
| Germany | Tom Langen, Robin Janssen | Germany | 25 |
17th-19th May 2013 - Vienna, Austria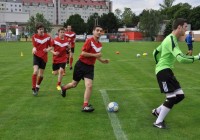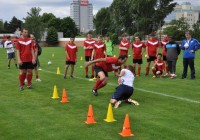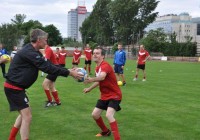 A host of nations will fly out to Vienna, Austria on Friday (17 May) as Austria prepares to present a two-and-a-half day workshop as part of its final plans to establish the country's first football 7-a-side team.
The workshop, which is being led by CPISRA's Tom Langen and the Director of International Sport Development Stuart Sharp, will include representatives from Singapore, Italy, Jordan and Denmark attend the event in Vienna, which is likely to lead to Austria's capital state in hosting the country's first international tournament at the end of August.
Three teams alongside Austria will feature in the tournament. Singapore and Germany are already penciled in for the event, while Italy are also hoping to take part.
Austria are also hoping to fly out the Netherlands later in the year for a tournament as they continue to build toward their main objective of competing at the European Championships next year.
Matias Costa, the Austrian 7-a-side football co-ordinator, has been working tirelessly to put together a team.
"This was a project that started back in 2010, Austria had no team,"Costa said.
"The strides that have been taken is fantastic. It has been a very slow process, but we are trying to intensify it and we hope to get classification to eventually play at the 2014 European Championships."
The biggest obstacle Austria faces is the recruitment of players and staff. With no local programmes around for athletes with an impairment, Costa and his team have had to start from scratch to find players through all nine of the Austrian provinces through training camps, contacts, and league matches – efforts that have finally put together a strong team of semi professional and amateur players.
"In most countries if a (cerebral palsy) player does not make it with an able-bodied team there are programmes for them to be sent to so they can continue playing sport and enjoying what they do. Only until recently, Austria has not had that."
"We have spent a lot of time setting up and going to camps, watching different leagues and another problem has also been identifying the specifics of the CP game so we can form a squad around the classified rules."
As well as cherry-picking the best playing talent Austria has to offer, Costa has set about finding the best staff to lead the team into future tournaments.
Team manager Wolfgang Hartweger has hailed Costa's work in Austria but believes it is time to reach out to all corners of the country to further the sport's development.
"We are at the beginning of a long journey," Hartweger said. "A national team should nominate their players from all over Austria. Each province should have a CP team, but at the moment most players come from Vienna. If we want to improve we need more training, more teams in Austria and more matches."
| | | | |
| --- | --- | --- | --- |
| Host Country | Tutors | Participating Countries | Number of Participants |
| Austria | Tom Langen, Stuart Sharp | Austria, Singapore, Italy, Denmark, Jordan | 22 |
2013 - Sierra Leone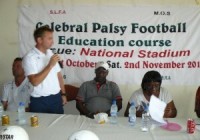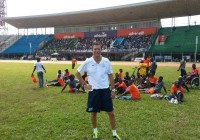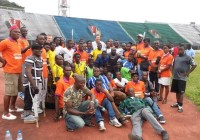 The first of two CPISRA Technical Development Workshops, targeting the African Region, was held in Sierra Leone in October. The workshop, which was delivered in partnership with the Sierra Leone FA and the National Paralympic Committee, was attended by 42 participants and hosted at the country's National Football Stadium. The content focused on coach education, classification and development structures to help those attended to have the appropriate knowledge to build CP football programs in the future.
Mr Unisa Deen Kargbo, who met with the CPISRA football committee members during the 2012 Paralympic Games, was instrumental in bring the course to Sierra Leone. He said upon reflection
"this workshop has been excellent in providing the tools which we need to take the game forward in our country. We will now use this newly gained knowledge to position our athletes into 4 teams to play within a league structure. It is of course our dream to reach the Paralympics one day and now the hard work begins".
Both the opening and closing ceremonies attached to the course were attended, by several important dignitaries including the country's Minister of Sport. During the ceremony, which was broadcast on national television, the Minister pledged to support the development of CP football in the country and looked forward to seeing the national team in action for the first time.
Rene Jurrius, one of the CPISRA course tutors said
"I am really pleased with the level of organization and structure being provided to CP football in Sierra Leon . The players here have a great deal of potential and I feel with further development they could go on to represent their country strongly".
Stuart Sharp, CPISRA's Head of Technical Control for football was also in attendance and remarked
"I hope that those who have completed this course become agents of change in the country. CP football, and sport in general, for persons with disabilities can provide multiple long term benefits to an individual's quality of life. I hope that the enthusiasm shown by the course participants can be sustained and new opportunities can now be created for CP football in the country. Following the strengthening of grassroots structures I hope to see Sierra Leone emerge from the African Region and be represented on the world stage".
As part of a targeted approach to increase the number of counties participating from the African region, CPISRA will return to the continent in December to train a new set of coaches, referees and administrators but this time Tunisia
| | | | |
| --- | --- | --- | --- |
| Host Country | Tutors | Participating Countries | Number of Participants |
| Sierra Leone | René Jurrus, Stuart Sharp | Sierra Leone | 24 |
| | |
| --- | --- |
| 2012 | CP Football Workshops |
| February | Jordan |
| April | Germany |
2012 - Jordan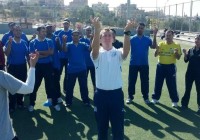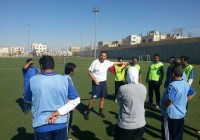 | | | | |
| --- | --- | --- | --- |
| Host Country | Tutors | Participating Countries | Number of Participants |
| Jordan | René Juries, Stuart Sharp | Jordan | 20 |
2012 - Germany
| | | | |
| --- | --- | --- | --- |
| Host Country | Tutors | Participating Countries | Number of Participants |
| Germany | Tom Langen | Germany, Austria | 20 |